Ever Wondered the Difference between the MTN 94 and Hardcore Spray Paint? Virtually every day we receive orders for spray paints, and the most common question we are asked is "what is the difference between the MTN 94 and the Hardcore spray paints?" We decided to talk about this today to make your purchases much easier.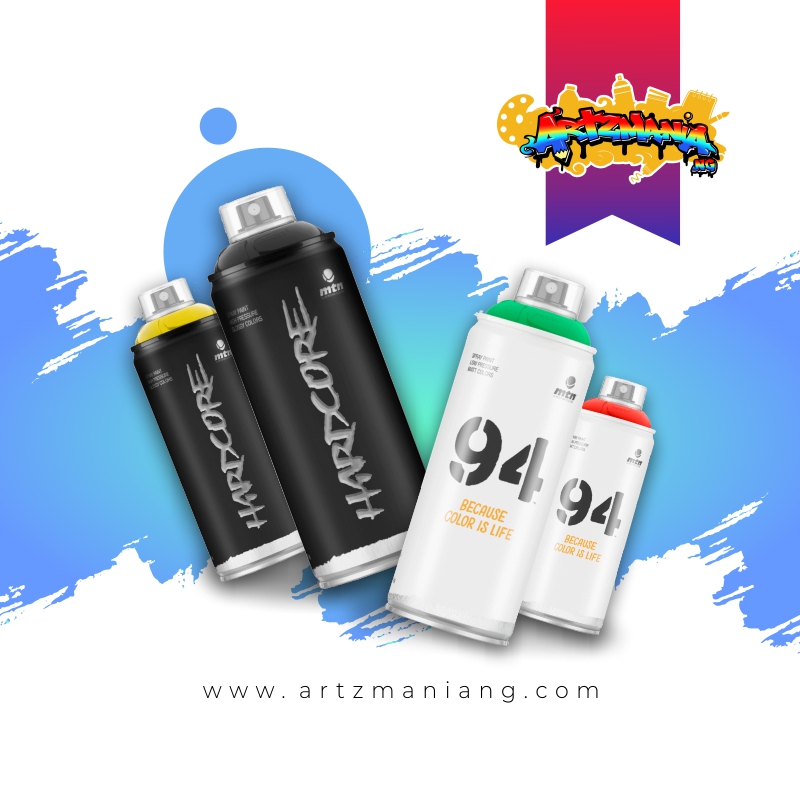 Montana Colors MTN 94 Spray Paint
MTN 94 spray paints are our first recommendations for DIYers and beginners in spray painting. This is because of its ease of use, blending and misting. Little wonder, it is the go-to spray can for even expert muralists. Its low pressure helps you move at your pace, and its quick-drying ability ensures that you can paint another coat soon enough if you want more than one coating. It is versatile, has a high opacity and has an extensive colour range of 216 colors in total. Montana Colors keeps expanding its already wide color range of MTN 94 spray paints, giving artists more room to push their creative boundaries.
Probably its most prominent feature is its excellent coverage matte finish. MTN 94 spray cans are extremely user-friendly and easiest to control spray paints on the market. With the introduction of different MTN caps and nozzles, users are now able to control the pressure of the painting, achieve different lines, and even transfer the spray paint from the can to a preferred container, to be applied through any other medium.
Additionally, its low-pressure variable valve system makes the MTN 94 extremely easy to handle and manipulate. This can be a con for artists who are looking to do quick work, but the Fat Cap comes to the rescue here or you can just go for the Hardcore Spray paints!
Montana Colors MTN Hardcore Spray Paint
If you live by the mantra, "Go hard or go home", the MTN Hardcore Spray Paint is the choice paint for you. Once you get a hang of spray painting, it's great to explore the Montana Hardcore range. It is one of the best performing gloss spray paints in the market and has become a favourite for the graffiti community.
Hardcore sprays have a fast-drying, quality hardening, and longlasting feature. It can also be used for a wide range of purposes, from domestic to professional and industrial use. It's core feature is its glossy finish and high pressure manipulation. Compared with the MTN 94, the Montana Cololrs Hardcore spray paint has 109 colors in total.
The other main differences between the MTN Hardcore and the MTN 94 are in overall finish and color range. The MTN Hardcore spray paint finishes with a nice, lustering gloss effect whereas the MTN 94 line has a matte finish that is much more muted. Additionally, while the color range is only half the size of the MTN 94 range, (109 colors total), the range of the MTN Hardcore spray paint line is focused on extremely bright and intense colors designed to seemingly pop off the wall.
Fun Fact: Did you know that Artzmania NG is the official marketer of Montana colours in Nigeria?